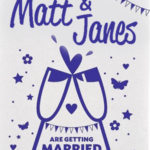 Are you worried about your upcoming wedding ceremony?
Looking for something unique for your guests?
Custom printed tea towel invitations might be what you're looking for.

No doubt everyone has a strong sense of the importance of making the wedding day gorgeous. And the desire to leave a lasting memory with those who attended.

Regular printed invitations are quite expensive. It would be quite disturbing to realise that some of the invitations you have invested much of your time, effort and money into, are going to be thrown away immediately after the party is over.