25/75 Blend Cotton / Linen Tea Towel including Printing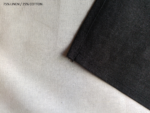 ​A high quality 25/75 Linen/Cotton blend tea towel is used as the base product. ​​As this product has a higher Linen content, it is stiffer than the 100% Cotton or 50/50 Cotton/Linen blended tea towels.
Together with our high quality water based printing inks that have received the Oeko-Tex 100 certification for Eco-friendly products​, making them safe for all applications.