When you open up your kitchen drawer to grab a rag to mop up some crumbs or tend to a stray liquid, chances are you're grabbing a tea towel.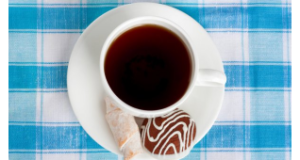 A tea towel is a nickname for a piece of cloth that is used for drying dishes. Therefore, there is a good chance that what is in your kitchen drawer is a tea towel.
Tea towels are usually made out of cotton, linen, or some combination of these two fabrics. Their uses include, as a souvenir or a keepsakes, or for actually drying the dishes.
Why do we call it a tea towel?
The word "tea" in this phrase harkens back to England in the 18th century when households had a specific linen cloth that the lady of the house would use to dry her nice, expensive china pieces that would be used for tea.
These linen cloths were also used to insulate teapots when they were in use as well as a cover for baked items. These little towels were so indispensable at tea time that the name stuck with them into the present day.
Women and girls would use tea towels to embroider. They created personalised designs or initials on them and gave them as gifts to family members and friends.
We still decorate Tea Towels and give them as gifts today. Get one personalise here
Over time, tea towels began to change. In the 19th and 20th centuries, these towels were made with a more decorative look, sporting checks or stripes.
Is a Tea Towel The Same as a Dish Towel?
A tea towel and a dish towel are terms that basically mean the same thing. Tea towel is the British way to describe a towel that is used for drying dishes, and dish towel is the American word for it. However, there are 'some' differences between them.
What is the Difference Between a Tea Towel and a Dish Towel?
Modern tea towels and dish towels are used for everything around the kitchen, including wiping the counter-tops and even serving as dinner napkins. They are a do-it-all cloth, though they are still primarily used by many as a dish-drying towel. Therefore, they serve the same purpose.
It is possible that tea towels are actually different from dish towels. Some dish towels are tea towels, but not all tea towels are dish towels. What does this mean?
The difference is in the fabric used to make each item.
Tea Towel (made from Cotton or Linen or a blend of both)
Dish Towel (made from terry cloth or a synthetic blend)
A dish towel can only be called a tea towel if it is made out of linen or cotton. Usually, dish towels are actually made of something called terry cloth. Therefore, if the towel that you are using is made out of terry cloth, then it is not a tea towel.
It is important to note that both tea towels and dish towels are typically the same size. They usually fall somewhere around 50cmx70cm (20×28 inches) even though there could be some that fall outside this range.
Both Work Well for Drying Your Dishes
If you are looking for something that can help you dry your dishes, both tea towels and dish towels are going to do the trick.
If you are looking for a souvenir, memento or keepsake. A tea towel is the perfect choice.
What are the Best Tea towels for Drying Dishes?
If you are looking for a tea towel, then there are a few options that stand above the rest. Some of the best tea towels on the market today include:
The Liliane Collection Classic White Tea Towels: It is clear that these white cotton tea towels simply stand above the rest. The set is only $20 and it comes with 13 towels. This is enough to stock the entire linen drawer with a single purchase. They are made from 100 percent, two-ply cotton. They also feature a herringbone weave along with a classic red stripe that makes them stylish for just about any pattern. Furthermore, they can even double as dinner napkins even as they provide outstanding absorbency. Without a doubt, these towels are going to meet the needs of any kitchen. Finally, they are also commonly used in hotels and restaurants, demonstrating that they are among the best tea towels out there.

Sticky Toffee Cotton Dish Towels: These dish towels are made from 100 percent, high-quality cotton, meaning that they are tea towels. They are perfect for cleaning up a spill, drying dishes, and a variety of other purposes. They come in numerous colours including blue, grey, red, and yellow. These tea towels also come with a textured design along with symmetrical striping. As a result, they are going to get the job done every time. They look great hanging out in the kitchen and will handle the task every time when called upon.

The Fecido Classic Kitchen Dish Towels: These are outstanding 100 percent cotton dish towels, meaning they are also tea towels. They are incredibly thick and very absorbent. Furthermore, because they are 19 in by 27 in, they were also larger than most other options. As a result, they are going to efficiently dry dishes and wipe away any liquids. In addition, they have often been compared to a siphon in a swimming pool. They are functional, come in numerous colours such as purple, green, red, and silver, and featuring classic chequered pattern. As a result, it is easy to see why they see why these tea towels are so popular. They can fit almost any kitchen style and function perfectly as tea towels.
These are a few of the most popular tea towels available today. All of them are stylish and will accomplish the task efficiently.