Get your very own personalised tea towels printed right here in Australia. Any design you want. Have it printed and delivered to your home.

Get a One-Off Personalised Tea Towel printed with any design
Under $35.00 Delivered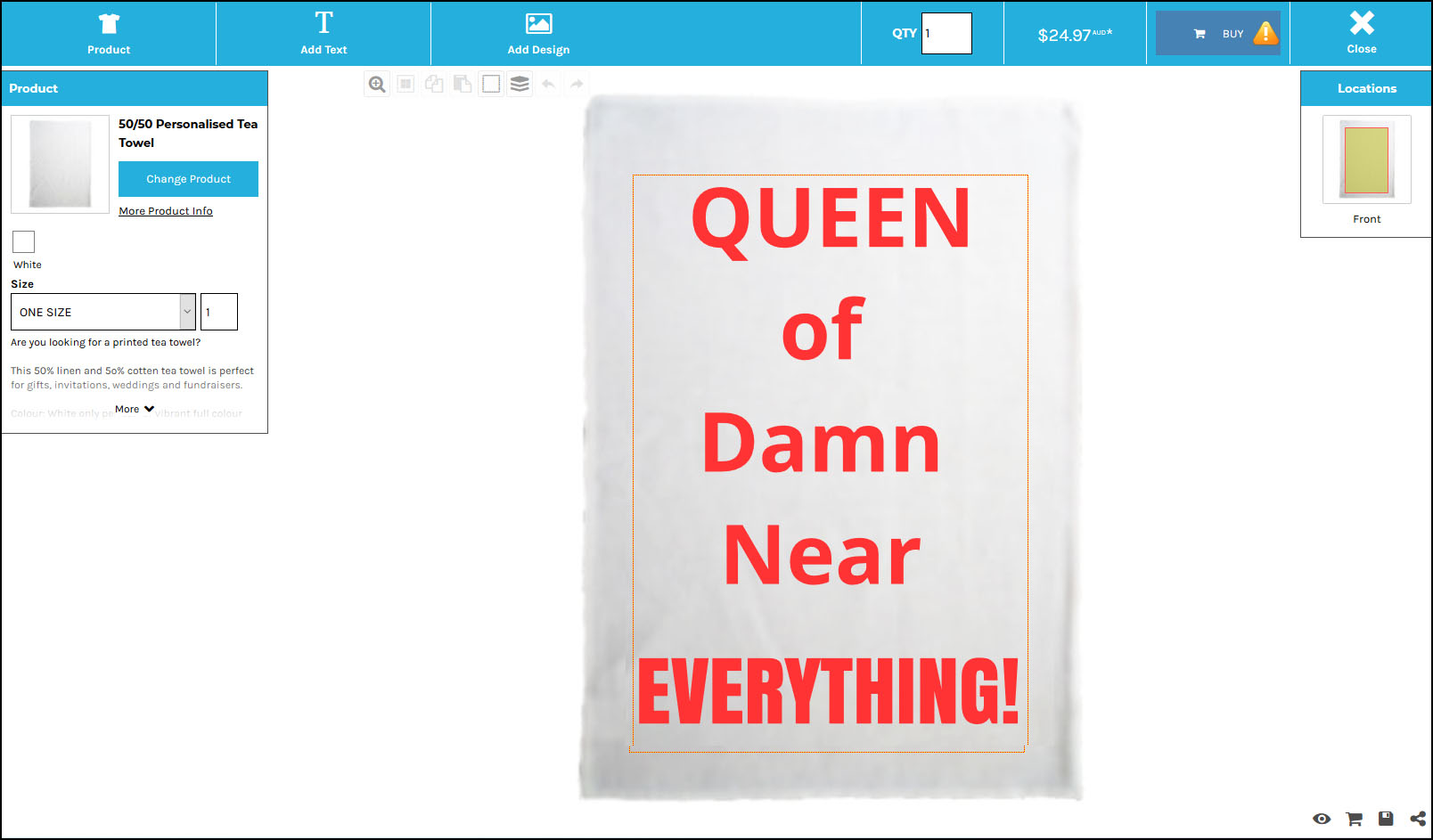 GET STARTED NOW
Personalised Tea Towels With A Photo
Add any words, photos or images that you want onto a tea towel. And get a personalised tea towel with your own special design.
Create that unique gift with a design that has a special memory for a friend.
There are endless possibilities for what you can print. Unlimited number of colours in the design. You can upload photograph's. Add your own words, in any colour. Hundreds of fonts to choose from. 100% unique to you.
Personalised Tea Towel Printing
Our team specialise in tea towel printing. It's so easy to get a personalised tea towel these days. Use our online design tool to create a homely addition to your kitchen. Or get a uniquely printed table setting for that special celebration.
You could use it to re-create some history. Reveal your own family coat of arms. Print your own tea towel featuring the image.
Tea towels are all about celebrating, so design something to reflect the mood.
Personalised Tea Towel Designs
Personalised tea towels are a great way to add some extra colour and character to your kitchen.
They also make the perfect gift for any occasion, from birthdays to holidays. There is such a wide variety of designs available that you can find something for everyone on your list!
If you're looking for ideas, here are some personalised tea towel themes:
Classic Monogram Design
A classic monogram design in rich colours like navy blue or red will never go out of style. This timeless theme makes a fashionable addition to any kitchen décor.
The best part about this design is that it can be customised with three initials or even more if desired!
Tea Towels are a great gift for anyone on your Christmas list, from your spouse to your grandparents.
Rustic or Country Style Theme
For a rustic or country style theme, towels with prints of fresh vegetables are an affordable choice for the home cook who enjoys whipping up healthy meals in the kitchen.
Some of these designs have pictures of entire produce baskets while others only show tomatoes, potatoes, or onions. The hues will range from light browns to bold greens.
Classic Monogram With A Twist
Put a fun twist on the classic monogram by using a pattern instead of a solid colour for the background.
A polka dot, gingham or plaid design will add some personality to your kitchen and also give it a vintage flair that will certainly impress guests!
Heaps of Templates Online
You can also make your personalised tea towel yourself with heaps of free templates and instructions online.
Many of the tutorials out there that will show you how to create a beautiful design in design programs like Adobe Illustrator, Photoshop or Corel Draw.
Family Photos, Quotes, or Other Designs
You might have some other ideas about what you can put on them. Such as family photos, quotes and sayings, or other random designs.
Tea towels are an elegant way to show some creativity. They are not only useful, but can be extremely happy or educational as well!
If you're have some more ideas on what to put on your own customised tea towel, you get started here.
Use the free online tool, or simply upload you own personalise design and have it printed and delivered to you in jiffy.
Personalised Tea Towels Australia
---
---
I was so happy when I received my tea towel… it was exactly how i envisioned it, thank you so much.


Lyn Anderson

Need Some Help? Send us your ideas, designs or orders via the quote form.