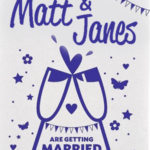 Are you worried about your upcoming wedding ceremony?
Looking for something unique for your guests?
Custom printed tea towel invitations might be what you're looking for.

No doubt everyone has a strong sense of the importance of making the wedding day gorgeous. And the desire to leave a lasting memory with those who attended.

Regular printed invitations are quite expensive. It would be quite disturbing to realise that some of the invitations you have invested much of your time, effort and money into, are going to be thrown away immediately after the party is over.
We are quite confident a printed invitation tea towel will not suffer such a fate. And whose memories never get lost after the big day is over.
Getting your own unique design turns your wedding invitations into a keepsake, with the ability to be used, even after the wedding is over.
Get 50 White Cotton Tea Towels printed and delivered from $7.50 each
(conditions apply)
Tea Towel Printing for Weddings

This article gives you a chance to experience our wedding tea towel invitations, that are skilfully created with the most sophisticated high-end print technology.
The tea towel design will maintain the memories of your big day for many years. And your quests will have a chance to retain the towels for years without having to throw them away.
100% Designed and Printed in Australian, on all Cotton or Linen or 50/50 blended Cotton/Linen. Our eye-catching models and designs are highly customisable to suit your distinct needs and colour scheme of your preference, that will get you excited.
Get 100 White Cotton Tea Towels printed and delivered from $5.50 each
(conditions apply)
Main features of our products
Made using first class inks and materials that do not fade or crack

Long lasting, as they can be used after the wedding
Highly customisable in regard to design, appearance, and colour to match your preferences with couples' names on it
You can order a free sample of the wedding towels (conditions)

Choose your design and colour
Screen Printed or Digitally printed using the latest in modern print technology

Made of quality linen and/or cotton and beautiful print result

Each towel weighs approximately 80-100gm and measures 70 cm by 50cm
Benefits of having your Tea Towel Printing for weddings done with us
The towels are highly durable items that can be reused after the wedding to rekindle and save your memories. Made of top quality materials and printed using top Australian technology that makes your invitations look attractive and fade resistant. The ability to have your own personalised design of your own choice to make the wedding occasion truly unique. Access to free sample and visuals to assess the quality and value of our products before you make the final order.

When it comes to your wedding party, the essential thing you are concerned with, is the impression that you create in the mind of people.
Sit back and relax as we offer one of the best Tea Towel Printing products, on the market, for weddings.
Need Some Help? Send us your ideas, designs or orders via the sidebar form.