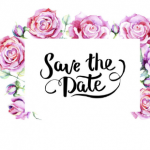 Thinking about organising a special celebration for that upcoming event, but cannot find the perfect invitation card?
We can help you.
We are skilled at printing tea towels as invitations to many events, such as
Now, we are offering you " Save The Date" Invitation Tea Towels.
It is a different idea because you make the choice! You tell us which event you want to organise.
You may have a specific occasion you want to celebrate, such as:
A Birthday
A Graduation
A Wedding or Wedding Anniversary
A Religious event, such as Baptism, Christening, Confirmation, First Communion, or others
The opening of a new business
The celebration of your business anniversary
Get 50 White Cotton Tea Towels printed and delivered from $8.50 each
(Get a Quote Here)

Save the Date Invitation Tea Towels
Any special event is worth remembering and there is no better way to remember than when important information has been written down.
Whether you want to celebrate a personal event or for a family member, or for a friend, we are here to assist you.
When your guests receive our Tea Towels as "Save The Date" Invitation, they will be excited to participate in your special event and to celebrate with you.
They will cherish your precious gift and admire it every time they use it.
Printing 'Save the Date' Tea Towel Invitation
Our Tea Towels as " Save the Date Invitations" are created with a very sophisticated high-end print technology.
They are designed and printed 100% in Australia. The most suitable printable materials are cotton, linen or a 50/50 blend of cotton and linen.
Our experienced designers can design them for you or, if you prefer, they can customise them to your wishes.
Get 100 White Cotton Tea Towels printed and delivered from $6.20 each
(Get A Quote Here)
After the date, time and address of the special event, various tea towel decoration ideas you can choose from are:
Name of event
Name of the person whose event you are celebrating
Date of birth, if birthday event (however, it would be better to ask their permission first)
Name of business, promotional graphics, if business celebration (It will promote the business the cheap way)
Your relationship to that person
Photo of that person or one of yourself, if personal celebration
Words of advice, if celebrating a wedding
Words of wisdom, if celebrating an 18th Birthday
Sayings, quotes, funny jokes
Congratulation words for a graduation
Inspirational words
A prayer, prints of religious icons or symbols, for a religious event
A metaphorical proverb
Create Save the Date Invitations on Tea towels
Tea Towels as Save the Date Invitations will stir curiosity in your guests, as a novel and unique way for an invitation to a special event.
Main Features of our products
Made with first class inks and materials that do not crack
Screen printed or digitally printed, using the latest in modern print technology
Materials are first quality with attractive print results
Long lasting, as they can be used for long time in the future
Customised as chosen by you, regarding design, appearance and colours
Each tea towel measures 70cm x 50cm and it weights about 80-100gm
You can order a sample of the Save the Date Tea Towel Invitation (conditions apply)
Benefits of having Tea Towels as Save the Date Invitations printed by us:
You have the opportunity to have a chosen personalised design to celebrate your special event
The tea towels are excellent quality, durable, and fade resistant
They are affordable
You, your family, your friends and guests will treasure the special memento of your event celebration.
So, contact us and together we will create the best "Save the Date" Tea Towel Invitations.
You will be glad you did!
Need Some Help? Send us your ideas, designs or orders via the quote form.