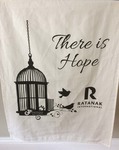 Tea-Towel printing for your church group is fairly straight forward, as a fundraising technique. Coming up with a suitable print idea might not be as difficult as it seems.
We suggest forming a committee and brainstorming some ideas. The bible is full of beautiful quotes that can be adorned onto a tea towel.
Once printed , selling these items is pretty simple also. The church congregation, together with people visiting the church, represent an ideal target market.
They're ready to get involved & contribute towards raising money to support either the community or the church.
Get 150 White Cotton Tea Towels printed and delivered from $4.80 each
(conditions apply)
Churches have used promotional products to help fund various projects in local communities for decades. So what is most commonly used you might ask?
We've listed here just some of the more common print ideas that might fit with your fundraising goals.
Bible Verse – print your favourite verses in Scripture
Images that might be popular among the congregation – could be a picture of the church or the congregation itself.
Psalm messages on Tea Towels
Christian sharing on Tea Towels
Looking for a novel church fundraising idea ?
Generally Churches & other religious organisations hold a variety of fundraisers throughout each year to support themselves & various other Community Projects such as
mission trips,
support the church and its' renovations or activities,
support a charitable cause, or
help students at private schools with tuition costs.
How about using hymn lyrics to produce, not just one item, but, a set of different items for sale.
If you have any suggestion, let us know in the comments.
Need Some Help? Send us your ideas, designs or orders via the sidebar form.