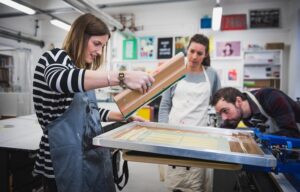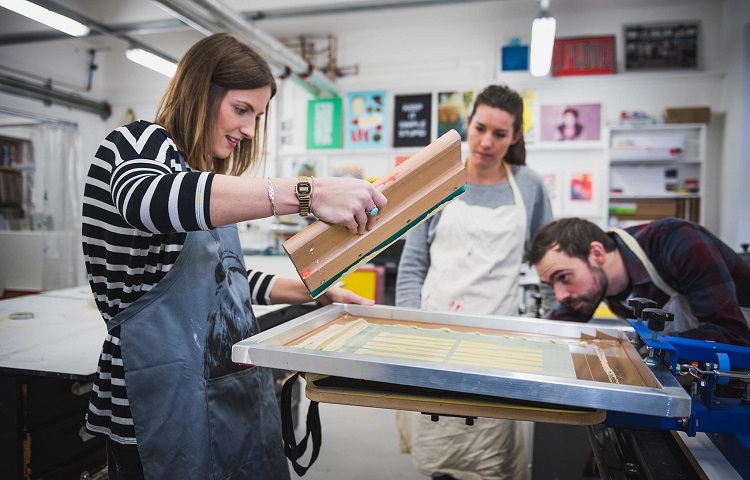 Screen printing is an excellent way to get your logo or design onto an piece of fabric – especially a tea towel.
This printing technique allows you to apply colour to the fabric in any shape that you desire. You can also add more colour by adding more colour layers to the design.
In the industry we call these layers "screens". Each colour will have its own screen. If you're asked by a screen printing company – "how many colours in the design?"- you will know why.
What is Screen Printing?
Screen-printing is a printing process that uses screens to place ink on a fabric. Think of a fly screen but much, much finer.
Then a stencil is placed on the screen that is used to block most of the screen and only allow the design to pass through. That is how the colour is applied to the tea towel. See how to screen print a tea towel at home
---
Get a Quote
Easily estimate the cost of a printed tea towel. Happy with the price, continue and place the order.
---
A screen printing company that does printing on tea towels will usually offer screen printing services for many other types of apparel, textiles and other items.
Let us know if you need other items printed?
What Tea Towel Can I Screen Print?
We offer a speciality range of tea towels made from a variety of cotton and linen fabric blends.
100% Cotton
100% Cotton Tea Towels are a lot cheaper than linen and linen blends. These tea towels are made in China or India. They are still good quality – generally cotton is a lot easier to produce than linen.
Available in White or Black
50% Cotton / 50% Linen (Our Premium Product)
Linen is a natural material made of flax plants which is blended with cotton to produce our 50/50 premium tea towel.
100% Linen
It is an environmentally friendly option as it's an all natural fabric,the colours look more natural and feels much stiffer. The colours are off-white, oatmeal and flax.
The downsides to linens is they wrinkle easily, and the fabric weave is also a bit wild. There contain slubs or random knots that can make the tea towel appear rough.
We Only Use The Best Materials
50/50 Cotton Linen Tea Towel
Tea Towel Size 70 cm x 50 cm
Maximum Print Size on 60 cm x 40 cm
Environment Friendly Water based Inks
What Do I Need To Start Screen Printing Tea Towels?
These are the things you will need to know for screen printing on tea towels.
1. The Design
Before you create screen printed tea towels, it's important to know what sort of image or text you'd like printed on the fabric. This is also where you should determine if this is going to be a one colour or multi-coloured design.
If you'd like to print more than one colour, you'll need to determine how many colours the design requires and what type of colour separations are required by the printer.
2. The right artwork
Once you've determined what sort of design you want printed on your custom t-shirts or tea towels, it's important that you create the right artwork for your design.
A vector file is the best type of file to use for screen printing. Vector files are infinitely expandable and will not loose resolution when enlarged or reduced.
You can use Adobe Illustrator, Corel Draw or InDesign and draw out the image that you'd like printed into a digital format. Or you can use our design team to do it for you. Save them as an .eps for easy compatibility.
3. Choose a print method
One of the main decisions you'll have to make when you're designing your tea towel is how many colours you'd like printed.
This decision will have an impact on the amount of money you'll need for this project. For example, if you are planning to print more than a three-colour design, you'll need to choose digital printing.
The cost of set-up for more than 3 screens would be more than to just print with digital equipment.
4. Minimum print runs
The downside to screen printing is the set up time. Because the set up costs are so high we have a minimum order quantity of 30 pieces for screen printing tea towels. If your quantity is less than 30, you will be quoted using digital printing.
Why Screen Printing Tea Towels?
Tea towels are a popular gift to give someone for Christmas or for any other occasion.
If you are looking for something extra special for family or friends this holiday season, think tea towel. They are inexpensive, easy to wrap, and make any kitchen look more homelike.
Only need a Few? No problem we can print any full-colour design. Personalise Here
(No Minimum Quantity)
There is also the added bonus that if it's something you don't like or need any more, you'll at least be able to use it again in the kitchen!
Tea towels are a great way to get your message out there is through targeted marketing. One of the most effective and least expensive ways to do that is with screen printing on tea towels.
If you want a quick and easy way we can help! Screen printing is a technique we have used for more than 30 years. Find out more about how we print tea towels.
---
Get a Quote
Easily estimate the cost of a printed tea towel. Happy with the price, continue and place the order.
---