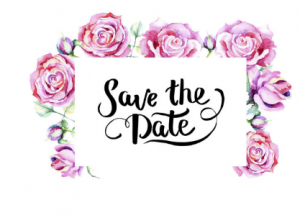 Tea towels are a versatile and convenient way to clean up spills and stains.
They're also an inexpensive way to add style and colour to your kitchen or bathroom decor.
But what if you want more than just a plain, white towel?
What if you want something that matches the theme of your kitchen or is personalised with images from your favourite TV show?
That's where DTG printing comes in. You can easily get DTG digital printing on tea towels right from your computer!
What is DTG Digital Printing?
DTG stands for Direct-to-Garment (or in this case Direct-to-tea-towel) and is a type of digital printer that directly transfers designs onto cotton/linen items like tote bags, aprons, bibs and now tea towels!
The printer we use has been specifically designed to print directly onto cotton/linen fabrics and the results are fantastic.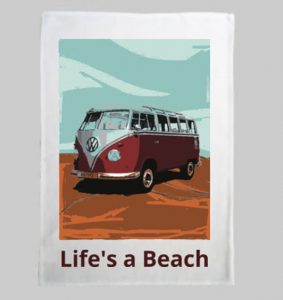 How is DTG Printing Used to Print on Tea Towels?
A DTG printing machine is a special type of industrial inkjet printer. It's designed to transfer a picture from your computer onto a tea towel.
Printing it directly like a home printer does on a piece of paper.
The DTG machine will print your design directly onto the tea towel.
This type of full colour printing has become very popular because it allows you to create just the right look, whether you need a patterned towel, a solid coloured one or something that matches your decor.
All from a file on your computer.
Pros for using DTG to print on your towels
DTG prints with water based inks onto a blank surface and the artwork is woven in to the fabric. This method allows for vibrant colours and repeatable designs.
A fantastic option for personalised or custom items, DTG will make your design feel like a part of the towel.
Cons for using DTG to print on your towels
The DTG process is not ideal for printing large blocks of colour – particularly black, dark reds, dark greens and other dark colours. Better for gradients and with lots of colour in the design.
The DTG process is only cost effective for small quantities.
How To Get Your Design Printed onto a Tea Towel
If you have your own design. The first step is to download the artwork you want on the towel. The second step is to upload it to our website, and press the "BUY" button.
It's really that easy!
If you don't have a design. You can use the creative tools to come up with your own design.
Get a One-Off Personalised Tea Towel printed with any design
Under $35.00 Delivered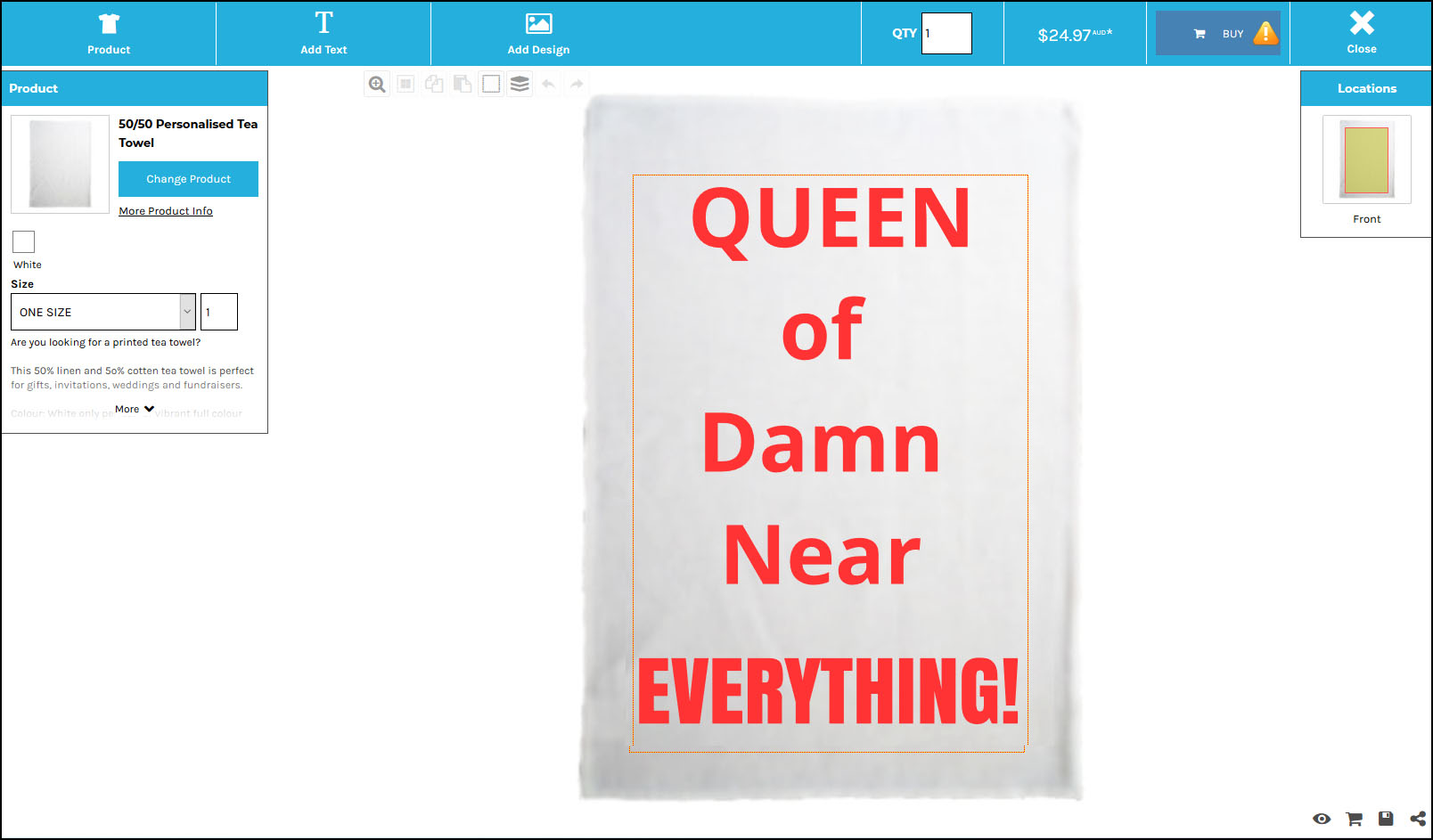 GET STARTED NOW
Creative Ways To Design Your Own Tea Towel
You can use the DTG process to print with your own design or company logo. Your next napkin set can be personalised with your monogram or family crest.
You can use the DTG process for holiday-themed towels like Christmas, Fourth of July, Valentine's Day and more!
This type of digital printing is perfect for customising your kitchen with a matching towel to fit any theme.
You can also match the colours in the towel to the colours in your kitchen decor.
We Only Use The Best Materials
50/50 Cotton Linen Tea Towel
Tea Towel Size 70 cm x 50 cm
Maximum Print Size on 60 cm x 40 cm
Environment Friendly Water based Inks
Conclusion
DTG is a great option for those who want to have custom, personalised items. It's also perfect if you don't need it right away or are looking for something that will last longer than most other types of digital printing.
Let us know how we can help you get started on creating a design that fits your needs and preferences at our website today!
---
Get a Quote
Easily estimate the cost of a printed tea towel. Happy with the price, continue and place the order.
---